William Scanlan: Our Tío Loco de Mezcal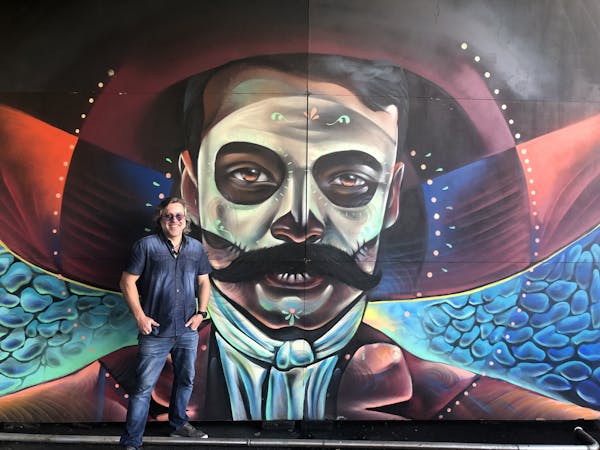 We have found ourselves at the forefront of a burgeoning agave empire, presented with a podium from which we are invited to teach consumers within our reach about the spirits of Mexico, the people, families and communities producing them and the corazón one might find in each and every bottle.
The mezcal industry is newly booming in the United States. Since the spirit's emergence in the American market, a number of big business, industry players have made their moves straight onto the profit-turning bandwagon that is industrial mezcal production. Suerte has been fortunate enough to understand from its inception that mezcal, at its heart, has always been about people, about relationships and about the familia fostered around it.
The founding father (or to some, the crazy tío) of our mezcal family tree, is William Scanlan, proprietor of Heavy Métl Imports, championing such incredible labels as Real Minero, Rey Campero and Mezcalosfera, to name just a few. I recently had the opportunity to sit with Scanlan, to pester him with questions he's likely been asked hundreds of times before, with the sole purpose of better understanding the driving force behind the work he continues to do with, and on behalf of, his Mexican partners. The passion and sincerity behind each word speak volumes of his convictions and his commitment to bringing mezcal to the world beyond Mexico in the way it is intended to be enjoyed.
Scanlan moved to Oaxaca in 2006, in the midst of an "agave crisis," when resources were becoming limited, undoubtedly strained by export to the US and other markets. At the time, he owned a small packing and shipping business and spent his days immersed in the culture surrounding him, interacting with the community and helping folk artists and creatives ship their artwork. By 2012 he'd received an eager offer to buy his business. He was considering purchasing land on which he would plant and foster agave but could not find the support to do so and ultimately moved to Mexico City, diving deeply into mezcal culture.
He would find in CDMX that mezcal was condemned, labeled as a peasant's drink. Unwaveringly, Scanlan continued to pursue his passion for the spirit and met Erick Rodriguez, "the Indiana Jones of Mezcal" at an agave festival in Mexico City. Rodriguez introduced Scanlan to none other than the now highly-lauded Rey Campero espadín and, subsequently, Romulo Sanchez's jabalí. It was with a sip of this remarkable spirit that Scanlan had a revelation; rather than creating his own label, he wanted to promote the heart, soul and spirits of the people who were already doing things right.
As Heavy Métl continues to gain notoriety, Scanlan reports that a number of producers seek out his export expertise, and yet, with income opportunity knocking at his door, he abides by a strict code of conduct, rooted in his personal beliefs about the way things should be. He has a clear vision for the impact he intends to make on the agave world, guided by family-owned brands, committed to sustainability and respect for tradition, and, of self.
While some agave influencers flood Oaxaca with the express purpose of ultimately draining it of its agave resources, Scanlan actively avoids taking on new labels from the state in an attempt to preserve some of what's left there. He works tirelessly to transcribe the stories of his existing partners in a true and honest fashion and to carefully educate the markets into which he introduces their soul-bound products. Through his proudly inherited role as cuentacuentos, he seeks to combat the conception that a Mexican spirit should be a cheap spirit, explicating the detailed and laborious processes behind each and every bottle of artesanal or ancestral mezcal.
We find ourselves in a time and space, now, where consumers are more adventurous, a bit more willing to discover, to branch out from the colloquial clear spirits we have all known so well, for so long. Suerte celebrates and seizes the opportunity to work alongside such vibrant souls as William Scanlan, to join hands with he and his partners and to walk together along the path of (some) resistance towards a world of greater enlightenment. Together we seek to educate, entertain and amaze with the stories of the people crafting something remarkable.
So, whether you're an established agave aficionado or new entirely to the vast world, we invite you to enjoy a mezcalito with us. Come by. Dive in. Take a chance on meeting Tío William himself. And most of all, salucita!
- Jillian Whitlow